A great relationship, with benefits.
Add a pharmacist to your C-Suite.
Our team has over 27 years' experience in for-profit, non-profit, hospital, and community pharmacy and has won multiple awards for pharmacy innovation. We know all there is to know about pharmacy and it is our pleasure to serve a limited number of likeminded partners who are passionate about improving healthcare.
Maximize your existing pharmacy benefit design.
Benefit design is meaningless if plan members do not enroll in the benefits being offered. We increase member enrollment in existing pharmacy savings solutions that are already being offered on the plan but are underutilized.
Patient Engagement Case Study
We increased enrollment by 112% in the first 12 months. Saving the group a total of $171,273 on 36 members. A 100% increase in savings over the previous 12 months ($85,652) without HaloScrips management.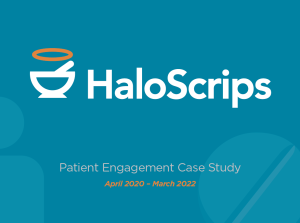 Optimize your pharmacy benefit design for the future.
We created a private network of independently owned (often family-owned) pharmacy vendors specializing in generic, brand, and specialty medication sourcing. We have an expanding menu of resources to ensure that, no matter the situation, your members get the right medication at the right time for the lowest possible price.
Here are some folks who have benefited from parterning with HaloScrips.
"I just wanted to say that the HaloScrips program is great!!! They respond to emails quickly; meds are sent, and I love not having to pay extra to get them at the pharmacy!"
– Jessica H.
YOU GUYS ARE INCREDIBLE! I just wanted to extend my gratitude and how impressed I am with your service in particular, as well as the HaloScrips program overall so far.
– Susan W. –ASM Research
I just wanted to say thank you for the outstanding service. As a lifelong salesperson, it is easy for me to recognize when customer service is important to the provider. It is made evident to me, in your approach.
– Lamont S.
No questions. All I have to say is how surprised I am to see how easy and convenient the service is. Thank You!
– VINC
Perfect! Thank you so much for your help. Excellent Customer Service!
– Lisa N. –WebbMason
Sachie is so much fun to interface with. Everything went so smoothly. I really appreciate all your help...Haloscrips is great!
– Robeert S. –ASM Research